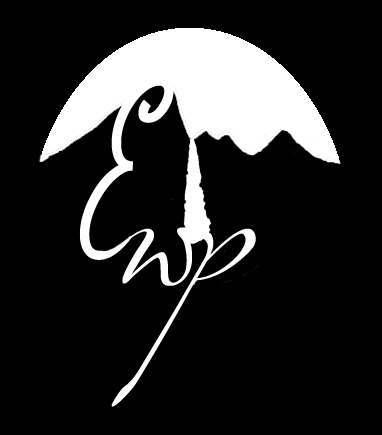 Biography of Artist Eleanor Walsh Perrine
(1931 to 2009)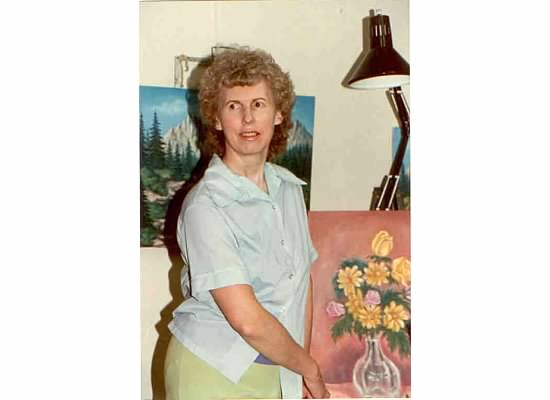 By Glenn A. Walsh
Artist Eleanor Walsh Perrine was born Eleanor A. Alsnauer on March 12, 1931 and grew-up in the Beechview section of the City of Pittsburgh. She was the only child of Margaret and Louis J. Alsnauer.

Louis J. Alsnauer was employed as a bookkeeper for the Federal Cold Storage Company located on Penn Avenue at 15th Street in the Strip District, on the edge of Downtown Pittsburgh (Federal Cold Storage Company was headquartered in Detroit). Margaret was a homemaker.

Louis J. Alsnauer, who had served in the U.S. Army in World War I, was a Block Air Raid Warden for his Vodeli Street block in the Beechview neighborhood during World War II. Having German ethnicity, he was always embarrassed with what the Germans did in the first half of the 20th century.

Eleanor's parents were good friends with the parents of James B. Irwin, who would become the eighth man to walk on the Moon in 1971. Although the Alsnauer and Irwin families lived only a few blocks away from each other, and both families attended Holy Trinity Lutheran Church, Eleanor only knew James casually.

Eleanor attended the Lee Elementary School, only about a block from her home. She graduated from the South Hills High School in March of 1949.

Eleanor developed an interest in art at an early age, which remained with her the rest of her life. Her parents, along with her extended family, were always delighted with her sketches and paintings of the neighborhood, people, pets, and nature.

While in grade school, Eleanor was awarded yearly scholarships to the Tam O'Shanter Saturday morning art classes at The Carnegie Institute Museum of Art in the Oakland section of Pittsburgh. These classes gave her continuous, disciplined art instruction from the third grade into her early teens.The program also presented art history that was museum-based.

The focus of the classes was, "Look. To see, to remember, to enjoy." Eleanor's children recall that she often encouraged them to do the same, whether it was looking at a piece of art, the Christmas tree, or some natural beauty, such as waterfalls, which she so dearly loved. Eleanor was an artist who enjoyed art for the love of art.

Eleanor was also an avid photographer and took many photographs wherever she and her family traveled.

Of course waterfalls were the favorite subject of Eleanor's photographs and her paintings. She would photograph all of the waterfalls that she visited, then come home and paint pictures of many of those waterfalls. Other favorite subjects of her photography and art included brooks, mountains, covered bridges, barns, lighthouses, and small-town churches.

Eleanor primarily painted using oil-based paints. However, occasionally, she painted with acrylics and water-colors. She also made silver jewelry (rings, bracelets, hair berets, pins) when she was in high school.

In later years, Eleanor produced picture-books, both the illustrations and the text, solely for her grandchildren. The topics of the picture-books ranged from several different animals, such as bunnies or ducks, to the alphabet, and even one about a trolley-car. Eleanor also illustrated Christmas cards she sent to family and friends, as well as illustrating some Christmas cards sent-out by her son, Glenn.

After her high school graduation, for a few years she worked as a clerk-typist for the Peoples First National Bank on Fourth Avenue in Downtown Pittsburgh.

In 1954, she married William L. Walsh in the Holy Trinity Lutheran Church. William, a World War II veteran, was employed for 19 years as a Research Chemist at the Harmarville Labs (now owned by the University of Pittsburgh) of the Gulf Research Company, a subsidiary of the Gulf Oil Corporation. Having been drafted by the U.S. Army (where he achieved the rank of Technician Fifth Grade) shortly after graduating Pittsburgh's Carrick High School in 1944, he used the G.I. Bill to earn Chemistry degrees from the University of Pittsburgh (Bachelor's Degree) and Carnegie Institute of Technology (today, Carnegie Mellon University) (Master's Degree and Ph.D.).

In 1956, Eleanor and William moved into a newly-built house in the northern Pittsburgh suburb of Shaler Township. They joined the Bethlehem Lutheran Church on Mount Royal Boulevard, a little more than a mile from their new home. Eleanor gave birth to three children: Glenn, Gayle, and Lynne.

The Walsh family traveled extensively all over the United States and Canada by both automobile and by train. Eleanor and William loved visiting, and hiking in, National Parks and state parks. Eleanor loved visiting waterfalls, and many trips would be planned specifically to see as many waterfalls as possible.

The Walsh family traveled by train across the Rocky Mountains in both the United States (1967) and Canada (1970), visiting several National Parks along the way including Yosemite (which was Eleanor's favorite), Banff, and the Waterton-Glacier International Peace Park, which straddles Montana and Alberta.

Each year, for several years, the Walsh family would spend a week, in mid-June just after the public school session ended, in New Hampshire. It was during this week that William attended an annual Gordon Research Conference at Colby-Sawyer College, in the little village of New London, New Hampshire. Eleanor would paint the New Hampshire landscape while her children swam and played.

Eleanor's first husband, William, died of cancer in 1977 at the age of 51. About a year later, shortly after her son, Glenn, graduated from the University of Kentucky, Eleanor decided to move the family back to the South Hills (first to Dormont, then six years later to Mount Lebanon) where she had grown-up and which had better public transportation, including an extensive trolley system where construction was about to begin for an upgraded Light Rail Transit system. Eleanor, like her parents, never drove an automobile. From December of 1984, she lived in Mount Lebanon the rest of her life.

In 1980, Eleanor married Francis James ("Jim") Perrine, a telephone and television service technician for RCA. The marriage took place at the Mount Lebanon Baptist Church, about a block from Eleanor's Dormont home, where she was a parishioner for the rest of her life. Jim brought three daughters to the family: Susan, Carol, and Barbara.

Eleanor continued to travel, with Jim, and visit waterfalls. They had one last transcontinental trip in 2003, lasting about a month, when they visited their daughter, Lynne, and their grandson, Sean, in Las Vegas, then visiting the Grand Canyon, Yosemite, and Yellowstone National Parks.

A few years before her passing, Eleanor was forced to give-up painting and photography due to failing eyesight. However, she still had enough vision to get around the house and watch television.

Francis James Perrine died in 2005 at the age of 75. Eleanor did not remarry again.

Eleanor Walsh Perrine passed-away, with her children at her side in Mount Lebanon's Saint Clair Hospital, on April 5, 2009 at 6:30 a.m. EDT, just a few weeks after her 78th birthday. At her death, in addition to having two daughters, a son, and three step-daughters, Eleanor also had four granddaughters, five grandsons, two great-granddaughters, and three great-grandsons.

By her request, her eyes were donated to the Cleveland Clinic, which conducts research on degenerative eye diseases.
---
EWP Logo-Mark created by Eleanor Walsh Perrine's granddaughter, Kiera Thrasher.
Other Internet Web Sites of Interest

History of The Buhl Planetarium and Institute of Popular Science, Pittsburgh

History of Adler Planetarium and Astronomy Museum, Chicago

Astronomer, Educator, and Telescope Maker John A. Brashear

History of Andrew Carnegie and Carnegie Libraries

Historic Duquesne Incline cable-car railway, Pittsburgh

Disclaimer Statement: This Internet Web Site is not affiliated with the Andrew Carnegie Free Library,
Ninth Pennsylvania Reserves Civil War Reenactment Group, Henry Buhl, Jr. Planetarium and Observatory,
The Carnegie Science Center, The Carnegie Museums of Pittsburgh / Carnegie Institute, or The Carnegie Library of Pittsburgh.

This Internet, World Wide Web Site administered by Glenn A. Walsh.
Unless otherwise indicated, all pages in this web site are --
© Copyright 2014 - 2018, Glenn A. Walsh, All Rights Reserved.
Contact Web Site Administrator: < ewp-p@andrewcarnegie.cc >.

This Internet World Wide Web page created on 2014 June 1.
Last modified : Monday, 18-Dec-2017 02:21:30 EST.

You are visitor number
, to this web page, since 2014 June 1.