Return to the Northwest menu

Return to the Front page
Carnegie Library
in Pioneer Park, Lewiston, Idaho
The original Carnegie Library, in Lewiston, Idaho, was closed as of Thursday, September 30, 1999. According to the following article, the reduced circulation did not justify the cost of operation of this branch of the Lewiston City Library.

Andrew Carnegie provided a grant of $10,000, on March 27, 1903, for construction of a public library in Lewiston, Idaho. According to the book, Carnegie Libraries by George S. Bobinski, Associate Dean of the School of Library Science at the University of Kentucky, and published by the American Library Association in 1969, a public library had been established in Lewiston, prior to the receipt of the Carnegie library grant in 1903.

(Glenn A. Walsh, Life Trustee, Andrew Carnegie Free Library; October 4, 1999)
Lewiston Morning Tribune, Lewiston, Idaho

Sunday, October 3, 1999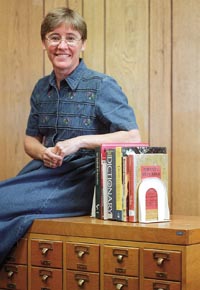 Tribune/Mike Venso
New Lewiston city librarian Dawn Wittman has the challenge of managing the outgrown and overburdened Tsceminicum Library while trying to help get a new library built.

---
Turning a new page; New Lewiston City Library director Dawn Wittman is a go-getter who inherits a facility with an overdue past and a foggy future
SANDRA L. LEE

Dawn Wittman has goals for the Lewiston City Library that have nothing to do with building a new library.

Not that she doesn't believe it's needed.

There's no room at the Tsceminicum Library for all the programs needed for the community, she says in one breath, and in the next announces she plans to concentrate on lots of new programs.

"Even with this facility, I think that we can do more," says Wittman, who took over as director of the library Sept. 20.

"I want us to be the information specialists for the community, whether that's through recreational reading or reference or technical access."

She wants more programs for young children and new programs for teens and young parents introducing literacy to their children, and outreach programs for the elderly. She is working on a Web page started before she arrived that will provide links to children's sites, city information, state historical sites and full-length magazine articles.

And she wants people to see the library is as important as the fire department. "It's that essential to their being."

She greets a visitor at the check-out desk where a librarian is explaining to a caller that the easiest way to spot the unobtrusive block building at 428 Thain Road is by the tall, yellow United Furniture sign next door.

She would like to have a huge sign on the roof that says "Library," she says, smiling.

Blueprints and a colored artist's rendition of a new library hang in her new office. She found them in a corner, she says, and is mildly chagrined when they are identified as a design done more than a decade ago when a new library near the Regence-Blue Shield of Idaho office was being talked about, not the design voters rejected two years ago.

"I mean, I've only been here seven days," Wittman says.

She hasn't even had her first formal meeting with the board that hired her.

She steps out on a limb so far: Two years to another bond election, she says. "I would say within a two-year period at the maximum."

The last one failed with 57 percent of the voters in favor of the $3.9 million building, including computers and other furnishings. Idaho law requires a two-thirds majority, or 66.7 percent.

The Friends of the Library did an amazing amount of work promoting that election, Wittman says, but the group needs to be revitalized.

Then a lot of input is needed from the community on the services they want and need, "with us doing the job of educating on the things that are possible."

Most people probably don't know what a bargain they have here, Wittman says. Library support cost $14.06 per capita last year, $2 less than the state average and about half the cost of one new book.

Alternative funding sources need to be explored from within the community and from grants, although money for the physical part of libraries has been scarce, she says.

Earlier this summer, Lewiston City Councilman John A.K. Barker, who runs a river rafting business, had a woman on a trip who handles education grants for the foundation funded by Bill and Melinda Gates of Microsoft. He asked her about a grant to design, pay for and install a computer technology lab in a new Lewiston library.

"He's done stranger things," was her response, Barker recalls.

He's ready to put on a coat and tie and stick his hand out and ask for money, Barker says, but leadership needs to come from the library itself, not from the council.

The city council controls the amount of the library budget and appoints the five people who sit on the library board. Under Idaho law, the board decides how the money is spent and sets policy for day-to-day management.

In the two years since the bond issue failed, not much has happened.

The set of plans the public was asked to pay for on donated land on Nez Perce Drive has disappeared into a corner somewhere.

The Tsceminicum Library has new carpet and furniture this year and lighting has been improved through a program from Avista Utilities.

The old Carnegie Library in Pioneer Park was closed last week because circulation didn't justify the cost.

The board wanted to clear the way for a new director, says library board president Joanne McCormack.

Wittman is a Culdesac resident with a master's degree in library science and a background that includes presidency of the Idaho Library Association. She played a part in starting the branch library at Lapwai that eventually became the headquarters for the Prairie-River Library District. She has served on that board since 1992.

When the Lapwai School District built a new elementary school, she was given the opportunity to create a new library program from the ground up.

It appears she's being given a similar opportunity at Lewiston.

Board members are saying the same things they said in the months immediately following their defeat at the polls -- that strategies need to be developed and people need to be educated about what the library can do for the community.

The ill health of the former director, Don Hampton, held things up somewhat, and then the board put off any action until a successor could be hired and get her feet on the ground, says vice president Ron Wise.

McCormack says the library board hasn't even talked about the new library for the past six months.

With Wittman hired, talking probably will start at the next meeting Oct. 13, she says. "I'm sure the decision will be made to go for a new bond election, but when it is, I wouldn't have a good idea."

The plans need to be overhauled, she says. "That additional 10 percent may be hard to come by." The new Asotin County Library "shot us in the foot. People like to go to Clarkston and the college, where it's nice and new."

Some exploratory discussions have taken place on lowering the price, Wise says. Straightening out some of the 40 corners in the exterior of the design is one possibility "if you really want another ugly building. ... Personally I believe a new library in Lewiston should be a very attractive building and I think everyone on the board feels that way."

Margaret Duncan, the newest member of the board appointed in May, says people need to get used to not having Carnegie and services at Tsceminicum need to be strengthened before another bond election is attempted.

"I would like to see it happen right now, but I would hate to see it go down to defeat again."

Duncan, a teacher in the Lewiston School District's gifted and talented program, likes Wittman's idea of a neighborhood outreach program, perhaps using schools as book pickup sites.

She was hesitant about the proposed site east of Granny's Restaurant on land donated by the McCann Family Limited Partnership. But when she stood there, she says, and saw the plans for new roads to serve the area, she could see where it would be a good, even beautiful, location.

No matter what is done to Tsceminicum, it's still just a converted hardware store, says board member James Bradford. "The town's just pretty much outgrown it."

Wittman will be a major asset in running the library and in getting another bond issue passed, "when and if we get to that point."

Maybe a year from November, in the 2000 general election, says board member Chris Ashby. But first, ways need to be found to improve services and alternative funding needs to be explored to reduce building construction costs.

"People are quick to give you money for computers," Ashby says. "The bond issue was a total package."
Return to the Northwest menu

Return to the Front page